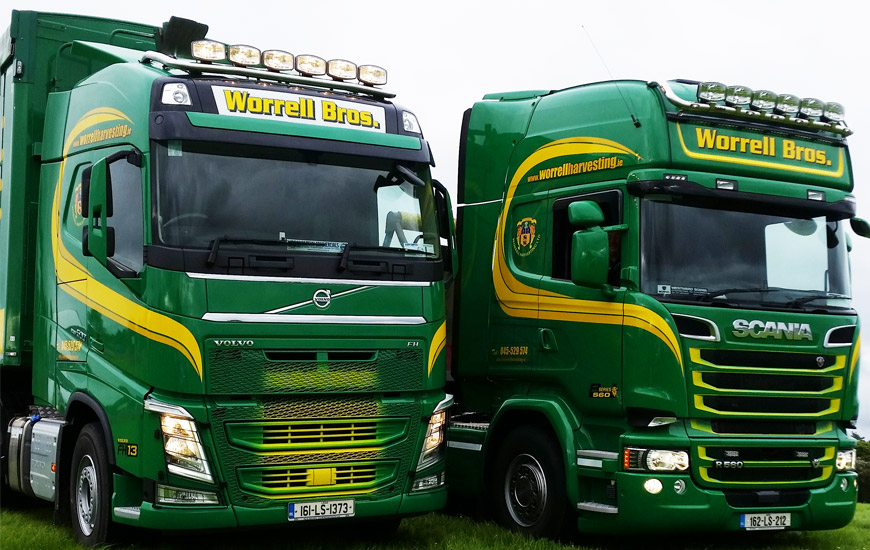 Worrell Harvesting Ltd run a fleet of Scania and Volvo trucks consisting of several double-drive tractor units combined with standard 4 X 2's and 6 X 2's and 6 X 4's artics and a 6 X 4 rigid truck for difficult sites. Over the past few years the company has strived to be efficient and also safe on our roads. By this we keep a modern fleet of trucks and trailers which are always road worthy. With our range of trucks we pride ourselves in offering a wide service to our customers over all areas of the country from North to South to East to West.
We have vehicles suitable for all conditions. 90% of our haulage business involves the haulage of forestry logs. We also carry other goods such as coal and fertiliser to increase the efficiency of our road haulage.
Our fleet of trucks operate nationwide. We have experienced drivers with a good knowledge of the timber industry.
Our fleet of trailers comprise:
OUR EXPERTIES
We have 20 years experience in the Forestry Industry and place great emphasis on the supervision and control of all sites. In conjunction with the forest manager we carry out a civil culture thinning to ensure that forestry owners achieve maximum return over the lifetime of their plantations